RESET
MARIA RIVANS STUNNING NEW ORIGINALS AND LIMITED EDITIONS
Maria Rivans is a contemporary British artist, known for her mash-up of Surrealism meets Pop-Art aesthetic.
With her unique approach to collaging Maria's artwork intertwines fragments of vintage ephemera, often with reference to film and TV, to spin bizarre and dreamlike tales. Her work takes the form of large-scale originals and limited edition prints, strikingly beautiful and filled with so much detail.
Each artwork is very labour intensive and handmade, representing many painstacking hours of work with hand embellishments, diamond dust, spot varnish and iridescent inks.
Each piece, as well as being beautiful tells a story. Here is Bonbon's....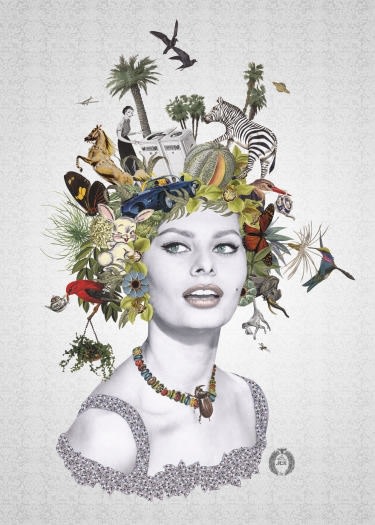 Bonbon
Starring Sophia Loren - 'Bonbon' is a celebration of female power and capability. A diamond dust encrusted dress is set against a necklace of colourful bugs, finished with a Rhino Beetle centrepiece. Proportionally the strongest animal on the planet, the deceptive little Rhino Beetle can lift up to 850 times its own weight - a beautiful allegory for the strength of womanhood, which Rivans carries into Loren's exotic headdress, adorned with winking bunnies who defy the conventions of 1950s housewifery, and fast cars to remind the viewer that girls enjoy 'boys' toys too. Rivans even inserts a little of herself into the print, signalling her own Italian heritage in the figure of Loren and her British upbringing in the traditional teapot. Bonbon captures the spirit of feisty femininity with treasure-trove appeal.
ORIGINALS AND LIMITED EDITIONS

AVAILABLE TO PURCHASE ONLINE TODAY

---

RESET

Click/Swipe for next image