Laetitia Guilbaud
---
Welcome to Laetitia Guilbauds first virtual exhibition with Artisan.
We are delighted to present Laetitia's latest stunning new original paintings.
All of Laetitia's originals come beautifully framed and ready to hang.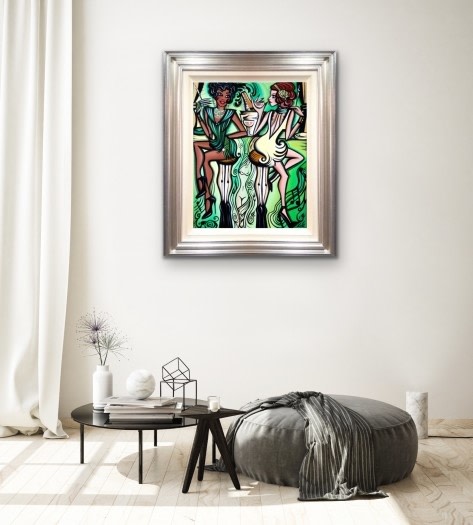 Laëtitia Guilbaud was born in France in 1980. Her work is all about women.
She is inspired by fashion and Pin-up art. This is why she likes to depict them with plenty of character and femininity. From an early dark abstract and provocative start, Laetitia's paintings have evolved into a more colourful image of modern women.
Since an early age, she has been sketching imaginary females. In 2003, after an art degree in Rennes, she decided to paint them with acrylic on canvas.
"I started to draw female characters when I was little & I started to paint 20 years ago. My inspiration is variable but most of the time I like to create a colourful atmosphere in my paintings. I love bar scene so my ladies often hold a glass of wine or bubbly ! I definitely enjoy painting independant and fiery women with a twist of fun and sexiness.
At the moment I am about to start working on a new artwork which will be very special to me. I have always been a big Beatles fan and I would like to realise a painting inspired by "Strawberry fields forever". I have already drawn rough sketches with some ideas. No, It's
Won't be the first time I will paint men. Last year I painted a portrait of Serge Gainsbourg with Brigitte Bardot. Most of my female characters are from my imagination but I also like to portray people who inspire me like A.Winhouse, Audrey Hepburn or Marlène Dietrich...
During the lockdown I could only work the afternoons but I still managed to make new pieces like "Late O' Clock (The woman lying on a sofa with her cat) which is featured on the video).
I have done quite a few drawings as well sat in my front door enjoying the sun with my favourite music echoing in my empty street.
It was something eerie and strange but somehow beautiful."...... Laetitia Guilbaud
Laetitia Guilbaud Virtual Exhibition

---

Click/Swipe For Next Image