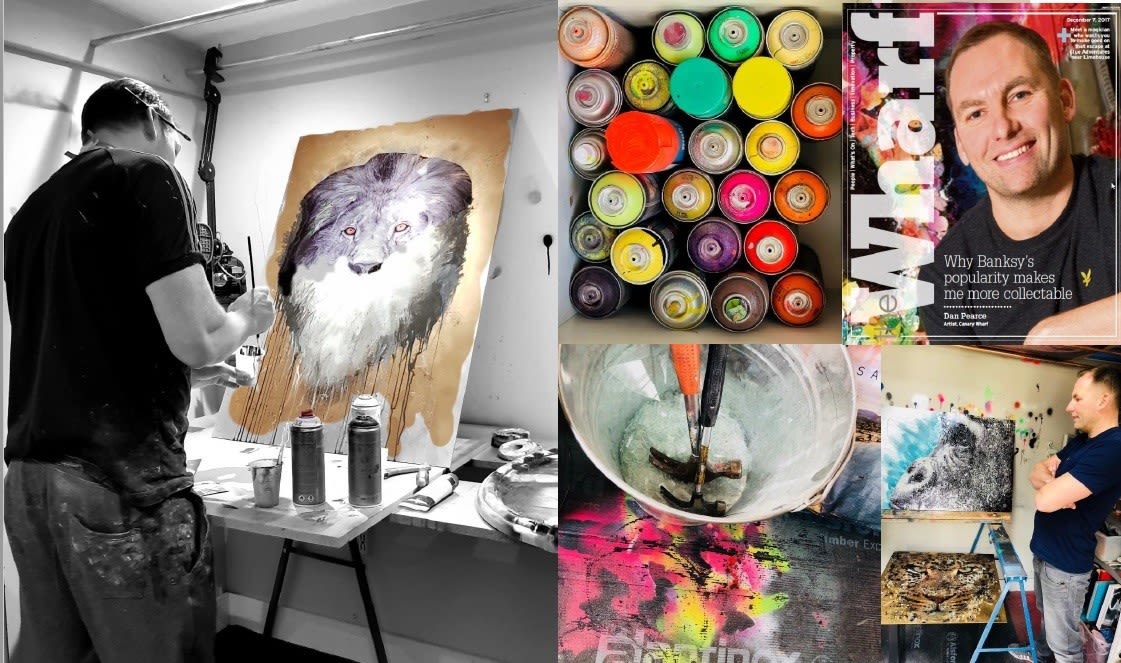 Dan Pearce is a contemporary mixed media artist, his works take inspiration from street and pop art and juxtaposing it with fine art,
his work is bold and confident in style often completely transforming iconic portraits with his own inimitable style and blurring lines between new media, pop and digital art.
"One of the UK's most collectable emerging artists"
SHORTLIST MAGAZINE
deLUXE BY DAN PEARCE
We are delighted to announce a stunning Dan Pearce show on Saturday 11th May.
Dan will be in the gallery and will be showcasing his incredible new artworks and sculptural pieces. Think diamond dust, gold leaf, big ornate frames, & bling.
Save the date, meet Dan and join us for a wonderful afternoon .
Complementary gifts, signed dedications, drinks and nibbles.

'ENDANGERED'
"I've always enjoyed painting iconic portraits but for 2018 I wanted to set myself a new challenge. I am a huge wildlife fan and was really influenced by the environmental message of Blue Planet II which inspired me to create a new wildlife series, titled 'Endangered'. I wanted to focus on the beauty of these animals whilst raising awareness for the Endangered Species."
Staying true to his love of colour and mixed media, Dan Pearce's iconic style is still evident in his animal series, 'Endangered'. Spray paint, aluminium, and resin – the key ingredients to a Dan Pearce original – are all still there, with the new addition of shattered glass and glass shards; a parody that tragically echoes the fragile future of these incredible animals.
"With a new challenge came a new process and new materials. Initially I was creating digital prints of wildlife but then decided to take it one step further and use an iPad Pro and Apple pencil to sketch the animals. I learnt to hand cut glass to help define the shape of the animal and smash glass to give it a texture by adding glass shards. The process was experimental, defining a process on each animal I created. I built up the glass layers, added spray paint, inks and set the mixed media in place using resin. I also introduced new materials like diamond dust and gold leaf."