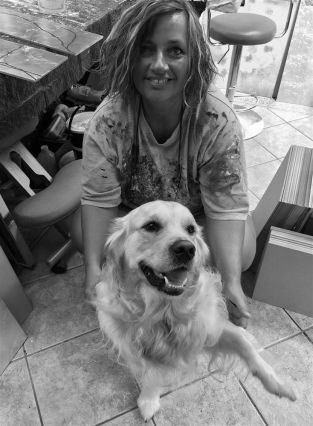 Linda Charles was born in 1969 in the South East of England. "As long as I can remember I have always had a creative streak; drawing and designing from a very early age".
She attended Herriot Watt University in Scotland where she studied textiles and fashion. This led her to my interest in abstract work in which she became more and more involved. She began to design work incorporating heavy texture using materials such as gold and silver leaf. The use of colour at the time lent itself to the advent of the interior design boom of the early 2000's and her work began to sell in large quantities worldwide.
She has always previously been keen to develop her work by fusing certain qualities of my abstract work into real life imagery.
She lives in a beautiful part of Hertfordshire surrounded by nature and rolling countryside and uses her surroundings for inspiration. Her close proximity to the National Trust's ancient Hatfield Forest, once a favourite hunting location for Henry VIII, provides excellent reference. The forest covers a large unspoilt area featuring a large lake and quiet backwaters. It's here that she is in her element using my sketch pad or taking photographs.
Once back in the studio she sketches out the scene of her work marking areas she wants to build texture for effect. The vibrancy created by the colours she uses enables the piece to border delicately between abstract and real life imagery. She aims to create the calm and tranquil feelings she gains from her earlier experiences in the forest and around the lake.
Linda tends not to work any set hours but typically during the summer and late spring months she will start in the early hours sometimes at first light when she find she has a lot of energy at this time and my passion for creativity is at its highest. She paints in a large, bright conservatory at the back of the house. She likes to have the doors wide open, chilled music playing; and being so close to nature from which she gains her inspiration.